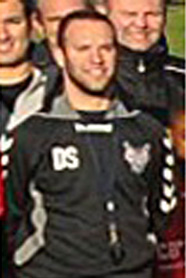 Dan Seymour is the Director of Football at Shield Academy, having founded the club in 2007.
Dan boasts a wealth of experience in grassroots football, playing locally for 7 years, before playing as a right back at East Thurrock United. Unfortunately a serious knee injury ended Dan's career early.
Dan embarked on his coaching badges from the age of 16, and found himself on the FA Level 3 (UEFA B License) at the age of 18.
Dan is a qualified youth worker, previously working for a local community centre. He completed a degree (BSc Hons.) in Sports Science in 2008, and qualified as a Secondary School PE Teacher in 2010. Dan is currently Head of PE at a secondary comprehensive school in Waltham Forest. He is also a tutor/assessor of the sports leadership qualification.
Dan also has experience at coaching at advanced levels, working with 2 premier league club's and a football league's youth academies over a period of 10 seasons. Dan also spent 2 seasons as first team coach of an established semi-professional club.
At 19 years old Dan established Shield Academy as a small soccer school. He had 13 boys and a bag of balls. However the numbers grew into enough players to establish a team. It quickly became 2 teams, and Dan became Director of Football. 7 years later and Shield has 17 teams. Dan spearheads the club's management committee, whilst overseeing the coaching programme. He also directs the club's soccer school and technical school/advanced academy.
Feel free to contact Dan with any questions. He'd love to be of assistance.